You have entered a value in the highlighted fields below that contain invalid characters. Please revise your selection using valid characters only.
Product may not be an exact match for your search
SENSIRION SHT40-AD1B-R2
Humidity & Temperature Sensor, I2C Digital, ± 1.8% RH, ± 0.1°C, DFN-4, 1.08 to 3.6 V
Date/Lot Code
The date & lot code information will be displayed on your packaging label as provided by the manufacturer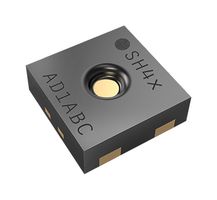 The actual product may differ from image shown

Manufacturer:

Manufacturer Part No:

SHT40-AD1B-R2

Newark Part No.:

92AH3440

Add your own part number/reference to each product. This number will be added to the Order Confirmation, Invoice, Dispatch note, Web confirmation Email and Product Label

Product Range

View the full series and range associated to this part

Technical Datasheet:
See all Technical Docs
Product Overview
SHT40-AD1B-R2 is a digital sensor platform for measuring relative humidity and temperature at different accuracy classes. The I2C interface provides several preconfigured I2C addresses and maintains an ultra-low power budget. The power-trimmed internal heater can be used at three heating levels thus enabling sensor operation in demanding environments. The four-pin dual-flat-no-leads package is suitable for surface mount technology (SMT) processing.
Relative humidity accuracy up to ±1.5 %RH
Temperature accuracy up to ±0.1°C
Supply voltage range from 1.08V to 3.6V
Average current of 0.4µA (at meas. rate 1Hz)
Idle current of 80nA
I2C fast mode plus, CRC checksum
Operating range from 0 to 100 %RH, -40 to 125 °C
Fully functional in condensing environment
Variable power heater
NIST traceability
Product Information
Want to see similar products? Simply select your required attributes below and hit the button ×



:

0% to 100% Relative Humidity



:

± 1.8% RH



:

± 0.1°C



:

8s



:

2s



:

I2C



:

Digital



:

DFN



:

4Pins



:

-40°C



:

125°C



:

1.08V



:

3.6V



:

SHT4x Series


Find similar products
Choose and modify the attributes above to find similar products.
US continental orders over $49 and under 50 pounds may qualify for free ground shipping. Click the link for the full Terms and Conditions of the offer.
2,436 In stock Need more?
×
You can reserve stock now just order your desired quantity and checkout as normal. The quantity that cant be dispatched now will be placed on back order and sent as soon as we get a delivery from our supplier. You only get charged when the products are dispatched to you.
Extra stock is available upon order to the Supplier Lead Time which is approximately 2/12/24
Same day shipping
More stock available week commencing 2/12/24
×
Order before 8pm EST standard shipping
Monday to Friday excluding National Holidays
Due to market conditions delivery times are for general guidance only and may be subject to change at short notice
Price for:

Each (Supplied on Cut Tape)
Multiple: 1 Minimum: 1
Add to Cart
Add to Cart
Pre-Order
Add
Restricted Item
This item has been restricted for purchase by your company's administrator.
Enter Your Line Note
Lines note are comments you can add to each line of your order. Your line note will appear next to that product in your Order Confirmation, Invoice and Dispatch note. Your line note will last for the lifetime of the order only.
Total Price:
Total Price: ( )
Total Price: --
Choose your packaging preference
Select the options below to mix and match packaging types